Eight CLIA member Lines were recognized by the U.S. Coast Guard for their participation in AMVER during 2018. AMVER is the Automated Mutual Assistance Vessel Rescue System, a global network of ships which volunteer to assist mariners in distress when called upon by Rescue Coordination Centers. AMVER is a global system, administered by the Coast Guard, and is credited with saving dozens of lives every year. This year, Admiral Karl Schultz, Commandant of the U.S. Coast Guard, presented the awards during a ceremony held at the National Press Club in Washington, DC. The AMVER award ceremony is held annually in conjunction with National Maritime Day. The CLIA member lines recognized were: Royal Caribbean, Celebrity, Carnival, Crystal, Holland America, NCL, Princess and Windstar. Collectively, these lines contributed availability of 105 ships; each ship contributed at least 128 days of availability on the AMVER plot to be eligible for the award.
National Maritime Day is celebrated in the US on May 22 every year as a way to commemorate the service of merchant mariners and the contributions of the Merchant Marine to our way of life. National Maritime Day was established by Act of Congress in 1933. The specific date– May 22- honors the departure from port of the first steamship to cross the Atlantic, SS SAVANNAH, in 1819.
Cruise ships have a proud record of rendering assistance to mariners in distress and thereby upholding the time-honored tradition of the sea.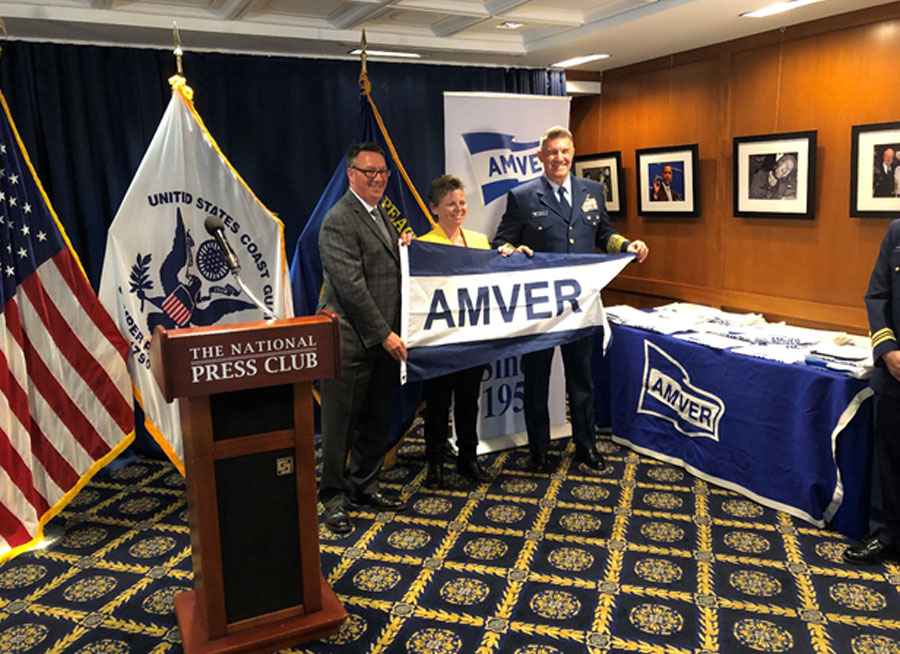 Tracy Murrell accepting the AMVER award on behalf of Royal Caribbean Cruise Lines.