Cruise Industry Regulation
The cruise industry is one of the most heavily regulated industries with robust, clearly defined standards. The average ship undergoes dozens of announced and unannounced safety inspections per year, involving hundreds of man-hours and the implementation of thousands of specific requirements set by the International Maritime Organization (IMO) and other authorities.
The cruise industry has a long history of ongoing review and improvement, with Cruise Lines International Association (CLIA)'s policies often exceeding requirements of international law. Providing for the safety of passengers and crew is, at all times, the industry's top priority.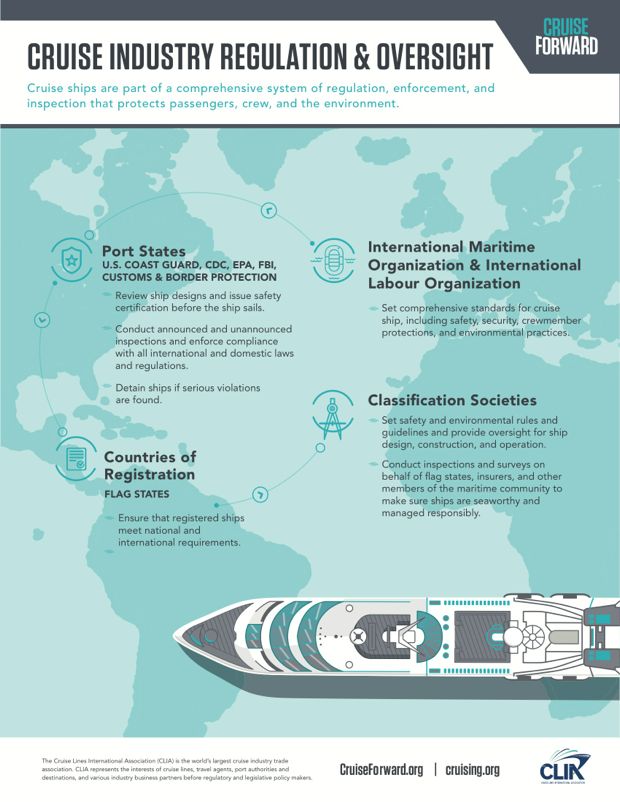 Regulatory Authorities
Cruise operations are tightly regulated with rigorous enforcement by outside authorities. These regulatory authorities set comprehensive standards for safety, security, crewmember protections, health, and environmental performance. International regulators include the IMO, International Labour Organization (ILO), and the World Health Organization (WHO). Also, agencies such as the U.S Coast Guard, the Centers for Disease Control and Prevention (CDC) and the Environmental Protection Agency (EPA) have full authority to regulate and enforce compliance for ships entering or departing from U.S. ports
Inspection and Enforcement
Cruise ships are subject to three robust layers of inspection and enforcement of international law and other requirements:
Port States:
Any country whose ports or waters are visited by a cruise ship has full authority to make sure that it follows international, national, and local regulations. Specifically, Port States inspect and enforce compliance with applicable international and domestic laws and regulations.
Countries of Registration:
The country or Flag State where a cruise ship is registered must make certain that registered ships meet all international requirements. Flag States also inspect ships on a regular basis to ensure compliance with both international and national requirements.
Classification Societies:
Independent agencies, called classification societies, conduct inspections on behalf of Flag States, cruise ship owners, insurers and other members of the maritime community to ensure that ships are in compliance with applicable standards and managed responsibly. These societies also set strict safety and environmental guidelines for design, construction and operation.
Consistent Updates:
International regulations are reviewed and updated to implement improvements. Specifically, the IMO reviews regulations on an ongoing basis through committee and subcommittee meetings, general sessions, and extraordinary sessions when warranted.