Travel Agent Interviews
Rebecca Needham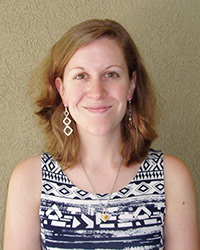 Rebecca Needham, MCC
Independent Travel Counselor, Triumph Travel Jacksonville, FL
Tell us about yourself. What is your current role?
Travel has always been an important aspect of my life, from my family childhood vacations to studying abroad in Scotland while in college. Four years ago, I took this enthusiasm for travel one step further by becoming an Independent Travel Counselor with my Grandmother's Agency "Triumph Travel." She helped me learn not only the technical aspects of travel, but the human side of travel, such really getting to know your client and understanding their travel needs. I specialize in customized vacation itineraries and a lot of my business involves cruise packages.
What best practices should travel agents adopt for Wave Season?
Many clients are completely unaware of Wave Season or what that even means, so be sure to educate and advertise. Explain "Wave Season" on your website, Facebook Page, and promotional mail. Send personalized messages to your clients letting them know about "Wave Season" promotions their favorite cruise lines are offering. If a client has not yet reserved their yearly vacation, reach out to them suggest a cruise. Many clients are just getting over the holiday craziness, and they are more than happy to be reminded of cruise opportunities.
What should Travel Agents avoid during Wave Season?
Wave Season offers a huge volume of promotions, and it can be quite overwhelming for the cruise client. Please remember that you know your client best and never reserve a cruise because of pricing alone. It can be tempting to persuade a client to finalize their vacation because "it's such an amazing deal," but the last thing you want is a client to have an unsatisfactory vacation. A week ago, a client came to me with "amazing pricing" for a specific stateroom category and wanted to book. I told her I would not suggest the category because it was under a public deck, and she is sensitive to noise. She did not realize this fact, and thanked me wholeheartedly for remembering her preferences. I still booked a cruise, but one that we both knew she would enjoy.
How can agents build their business during Wave Season?
Wave Season is a naturally busy time for travel agents, and you're going to get new clients, so make sure you give those new clients extra attention. After I make a new reservation, I like to send a little note out to the new client letting them know I appreciate their business. I also make sure that there is a gift waiting for them in their stateroom the day they sail. New clients are pivotal because they're likely from a different region and have their own circle of friends/family. You want them to rave about your customer service and refer you. Also, always remember to cross-sell and reserve their entire cruise package! If a client is cruising, then they may also need: travel insurance, airfare, a pre or post cruise hotel, excursions, etc.
Are you CLIA Certified? If so, what designation and how has that certification impacted your career?
Yes, I earned my Master Cruise Counsellor status in 2016. I do emphasize this designation when dealing with new cruise clients because it assures them that they are dealing with a qualified cruise professional. However, the best part about my MCC was the process of gaining this status. Specifically, the knowledge I acquired from required ship inspections and cruising experience allows me to sell cruises with more confidence. It's a huge bonus to be able to discuss a cruise line that you've physically inspected or cruised on.
How has your CLIA Membership helped you in your career?
In a way, my CLIA Membership started my career. When I first told my Grandmother that I wanted to join her travel agency, she told me to join CLIA, take some classes, and go from there. This was the best advice because through my CLIA education, I was able to learn the fundamentals of cruising (destinations, elements of a cruise ship, etc.) and how to sell cruises (marketing, gaining new clients, etc.). Essentially, CLIA taught me how to "become a travel agent" and then gave me the tools to further my career through certification training. I have had several people come up to me in recent times and ask how they can get into the travel business. I always tell them to start with CLIA!