Travel Agent Interviews
Ferne Sapp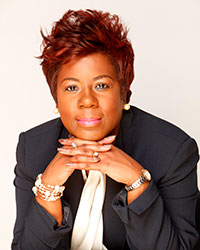 Ferne C. Sapp, ACC
Independent Travel Agent, InteleTravel.com
Covington, GA
Tell us about yourself. What is your current role?

I'm able to enjoy the best of both worlds—the working world and entrepreneurial world. By day, I serve as a Campus Pastor of our multi-site church, where I spend my time helping, serving, leading, training, and equipping people. It is a challenging, yet rewarding role because I have the privilege of creating and adopting new initiatives for our rapidly growing campus. In between my weekly sermon preparation, I often find my mind reflecting over the places I've been and people I've met in my "night job" of being a Travel Agent and business owner. What's most amazing is that my role is essentially the same; helping and serving people as they travel the world and live out their dreams. I am a Cruise Specialist, certified by pretty much every cruise line, including being a Princess Commodore. I am blessed to be a wife of over 20 years, a mother of two "kid-adults," and a Grammy to two amazing grands.
What best practices should travel agents adopt for Wave Season?
In the words of a surfer, "Don't let the wave pass you by!" Catching a wave is all about timing and preparation. Get prepared early by ensuring subscriptions are in place for all cruise line newsletters to receive all the up-to-date news, promotions, and special offers so we don't miss out for our clients. It's best to be sure we have a designated email address so those offers don't get lost in the mix. Another best practice is to get to know our clients—who has expressed a desire to take an extended cruise to Europe? Who would like to experience the Denali? Knowing the answers will keep us on the "go" for Wave Season. It's all about doing our homework so our clients know we are more than just a website or an "order taker," but we are their personalized travel expert that can help them experience the wave.
What should Travel Agents avoid during Wave Season?
During Wave Season it is important that we avoid overbooking ourselves with new clients and an overabundance of trips. More is not necessarily best, sometimes less is best because it affords you an opportunity to personally consult with your clients and provide them with the best service. As agents, the upgrades, onboard credits, and incentives offered during Wave Season can make us feel much like a kid in a candy store. We can often feel like we have to have every client out there, so we can offer them everything. Overbooking or overextending ourselves can have a negative impact on our client's experience; therefore, it is best to under-promise and over-deliver by taking on the number of clients and trips we can service with excellence. My motto for clients is, "Making sure you enjoy the seasons of life." My aim is to provide pure enjoyment and create a satisfied customer.
How can agents build their business during Wave Season?
With more than 70 percent of travelers preferring to use a travel agent, it makes sense during Wave Season to practice using our ABCs—Always Be Connecting with the client. Satisfied clients result in repeat clients. We must make sure our clients have the best fare with the best value, causing them to not only come back for more, but also share their experience with others in the form of referrals.
How has your CLIA certification impacted your career?
Wow! CLIA certification has served as my Home School teacher. I have learned so much through the certification program. To know the experience that each cruise line offers is invaluable information and a direct result of an increase in my personal sales. We have a saying in our company, "The more you LEARN, the more you EARN." CLIA certification has done just that—it has helped me to earn more as a result of learning more. I can also leverage my certification when marketing or promoting my business to potential clients. A new client hearing the word "certified" becomes a more confident client, which helps me to better service them without the presence of anxiety and fears.
How has your CLIA membership helped you in your career?
CLIA membership has given me access to travel resources and tools. Having itineraries, ship features, and key selling points for every global cruise line, to share with my clients, right at my fingertips is priceless. Immediate access to this information proves that I am indeed the credentialed travel professional, and clients seek to work with me knowing they can leave all of their travel needs to me. CLIA Membership also keeps me on the competitive edge and head and shoulders above other agents. I was once selected to service a group, over other agents that presented to the group coordinator, all because of my professional presentation and wealth of knowledge. I attribute this win directly to having CLIA Membership! Of course, membership has also opened the door to industry perks and benefits that have enhanced my own personal travel, as well making me an informed and experienced travel professional.